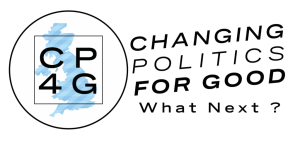 On 29th February 2020, several hundred democrats came together in a Stockport conference centre to discuss how to build on the radical promise of Brexit.
Changing Politics For Good: What Next? was organised by Claire Fox and fellow Brexit Party MEP Henrik Overgaard-Nielsen. While campaigning to defend Brexit they had noticed that the phrase 'Change Politics For Good' had struck a particular chord with many people they met.
The aim of the conference was to discuss the contemporary issues we face, as a nation, in the regions, and in our communities. This cross-party, one-day conference was a huge success, bringing panellists from across the political spectrum to kickstart public conversations on how Brexit can be a catalyst to Change Politics For Good.
Speakers included Graham Stringer MP, Martin Daubney, Inaya Folarin Iman, Lord Maurice Glasman, Sherelle Jacobs, Professor Frank Furedi, Ben Habib, Tom Bewick, Ruth Dudley Edwards and Brian Monteith.
See the full programme and watch video and audio recordings of the discussions here.
None of the attendees could have known at the time that within a month of the event, the whole country would be under lockdown. The enforced isolation of people and withdrawal of many taken-for-granted civil liberties during the pandemic have been an undoubted setback for grassroots political movements.
In her new pamphlet The Sovereign Subjects of History, part of the Academy of Ideas' Letters on Liberty series, Claire reflects on the Stockport conference and the events that have followed:
"There, in Stockport, was an embodiment: people who, through the turbulence of fighting to be heard as voters, had found their political voices as citizens. They had discovered that their personal sovereignty meant that they had power to shape the future… 'What Next?' was the burning question."
"The response to the pandemic has been characterised by top-down policies designed by domestic, unelected public-health technocrats – surely this makes a mockery of the Brexit demand to take back control… Any regrets? Not one. Brexit was never a destination, but the beginning of a new democratic settlement. And at its heart remains a key historical moment that placed the issue of sovereignty back on the agenda. Making the most of that sovereignty is the task ahead."
The Sovereign Subjects of History by Claire Fox is available in print and Kindle versions for £2.00 or to download free here.