The Changing Politics for Good #CP4G conference was hosted by former Brexit Party MEPs for the North West, Claire Fox and Henrik Overgaard-Nielsen. It took place in Stockport on 29th February 2020.
The aim of the conference was to discuss the contemporary issues we face, as a nation, in the regions, and in our communities and the ways in which the radical promise of Brexit can continue to influence politics. This cross-party, one-day conference was a huge success, bringing panellists from across the political spectrum to kickstart public conversations on how Brexit can be a catalyst to Change Politics For Good.
Claire, Henrik, and the whole team who helped organise would like to thank you to everyone who attended the CP4G conference, we could not have done it without you.
Below you will a list of sessions including the speakers, as well as the complete conference recorded available on Soundcloud, and the sessions recorded on Youtube.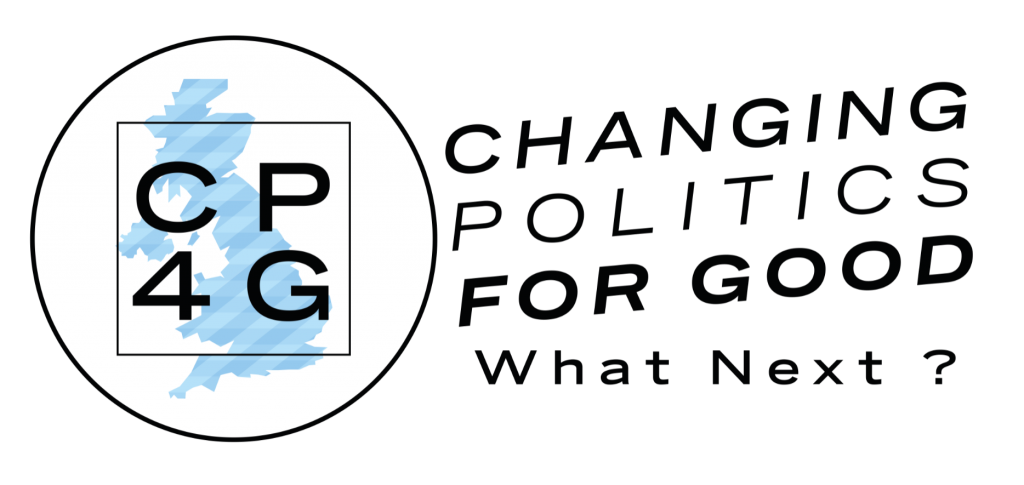 #1 After the Brexit Election: Speakers: Tom Bewick, FE News, Sherelle Jacobs, Daily Telegraph, Dr Kevin Yuill, University of Sunderland, Graham Stringer, MP Blackley and Broughton, Mo Lovatt (Chair), Academy of Ideas
Brexit Bros Podcast Live (Special Lunchtime discussion): Speakers: Martin Daubney, Westmonster, Michael Heaver, Westmonster
#2 The State of Democracy Today: Speakers: Lord Maurice Glasman, Labour Peer, Professor Frank Furedi, University of Kent, Claire Fox (Chair), Academy of Ideas
#3 Trade, Finance, and The Economy: Speakers: Ben Habib, CEO First Property Group, Hilary Salt, Economist First Actuary, Jake Pugh, MD Pugh View Ltd Financial Advisors, Phil Mullan (Chair), Economics & Business Writer
#4 The State of the Union: Speakers: Stuart Waiton, Lecturer Abertay University, Ruth Dudley Edwards, Historian, Richard Taylor, Chairman Livingston House, Pauline Hadaway (Chair), Liverpool Salon
#5 Regenerating the UK: Speakers: Shelagh McNerney, Built Environment Specialist, Matthew Patten, Ex-Mayor's Fund for London, James Woudhuysen, London South Bank University, Alastair Donald (Chair), Academy of Ideas
#6 From PR to a Bill of Rights: Speakers: Tom Bewick, FE News, Sherelle Jacobs, Daily Telegraph, Dr Kevin Yuill, University of Sunderland, Graham Stringer, MP Blackley and Broughton, Mo Lovatt (Chair), Academy of Ideas
#7 Tackling Local Issues: Speakers: June Mummery, REAF, Rick Moore, Brexit Party PPC, Andy Argyle, Brexit Party PPC, Victoria Beckett, Freelance Artist Andrew Allison (Chair), Freedom Association
#8 New Parties, New Campaigns, New Think Tanks: Speakers: George Hoare, The Full Brexit, Professor Dennis Hayes, University of Derby, Joan Mulvenna, Leavers of Manchester, Colin Lambert, Ex-Labour Council Leader, Laura Bierer-Nielsen (Chair), UKleft.EU
#9 What Next For Radical Democrats: Speakers: Brian Monteith, Ex-MEP (BxP) & MSP (Con), Inaya Folarin Iman, Free Speech Union, Yasmin Fitzpatrick, Ex-Producer (Channel 4 & BBC), Henrik Overgaard-Nielsen, Ex-Chair Danish 'No' Campaign, Claire Fox (Chair), Academy of Ideas
All sessions recorded below
#1 After the Brexit Election:
#2 The State of Democracy Today:
Brexit Bros Podcast Live